Great!

My life is rated PG-13.
What is your life rated?
Greetings!
Now most of you (the ones that know me) would know that I could not draw even if my life depended on it. Really. I cant. Not at all.
Anyway, as I was browsing the web a few months ago, I came across an amazing blog/webpage that had really cool, weird, intresting images. I put it in my fav list and went about my stuff. I'd check his blog on and off, and maybe drop a comment on an image that I really like, but thats about it. Oddly, the artist has always emailed me back saying thank you for the comment, and is uber polite (yeah thats always cool).
Today, I popped in his site and saw this amazing image of a marble statue (I think) and I just had to comment, and on top of that, I inquired on how he did his work (ie: what he used to get these amazing images out on the net) Below is his reply:

In general terms,
Most of the images were created using Adobe Photoshop, Maya 5.0. Bryce 5, and Painter 8 in one form or another. Essentially they are digital photo collages using mostly photos and textures that I record myself. These images have multiple layers of photos and textures, sometimes quite a number. An online Art and Poetry journal recently ran a feature on my work, if you are interested there is more about the way I work.


You can find that Art and Poetry Journal feature here
.
You may also have a look at his Blog (where I first spied his work!) here:
Invisible Notes
Hope you guys enjoy his work
(yes I know this was a long-ish post)
Dav out
Mossdragon took some pics of his backyard (dude some backyard!) and one shot really took my fancy so I'm putting it up here.
Amazing field/backyard
More of
Mossdragon's Amazing Pictures
here!
Dav out
Someone's trying to push this on eBay. How cool is this?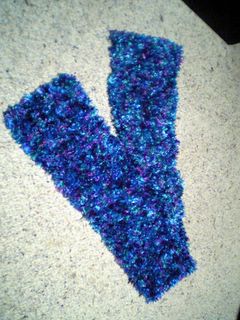 The Scarf of Coolness!
[Edit] I just got a link to the actual eBay posting for the scarf, so if anyone wants to bid, just go here -->
Scarf Of Coolness